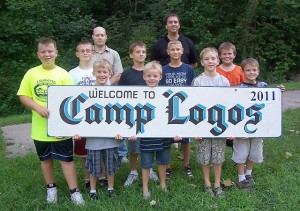 All young people between the ages of 8 and 18 are invited to attend the 2016 Bible camp known as Camp Logos. This year's camp starts on Sunday evening, July 24th and runs until Friday evening, July 29th with loads of fun waiting for all involved.The annual youth Bible camp, held at
Tar Hollow State Park
, has been in operation for almost 40 years. Camp Logos is a long running joint venture of Athens Bible Church, Butler Bible Church, New Lexington Bible Church and Salem Bible Church and is staffed by qualified camp counselors and Christian volunteers.
Some of the activities the campers will experience include: swimming, kayaking, age appropriate games, camp fires, hiking, singing and daily Bible study.
Campers are divided into small groups and separated by sex and age, with junior campers being ages 8-12 and senior campers ages 13-18.
The total cost of Camp Logos is just $150 per child but you can get a discounted rate of $125 if you meet the registration deadline of May 15th. For families with more than three children going to camp – pay for the first three and the rest go for free!
Registration fees cover cabin accommodations, meals and all other needs of the camper while attending Camp Logos.
Print The 2016 Registration Form
Print Directions To Tar Hallow State Park
More details of the schedule are available by contacting one of the sponsoring Churches: Athens Bible Church, Butler Bible Church, New Lexington Bible Church and Salem Bible Church